COVID-19 Travel Safe Measures
The health, safety and well-being of our passengers and staff is our number one priority. In line with guidance from transport regulators as well as the Australian Government we have developed a COVID Safe Business Plan to provide the safest possible travel experience.
Before you begin planning, it is important to note that for a group to travel safely, any person feeling unwell or experiencing COVID-19 symptoms including cough, fever, sore throat, fatigue, and shortness of breath should remain at home and not travel.
Everybody in the group should follow social distancing guidelines, including the organisers approved seating plan, good respiratory and hand hygiene practices, as well as provide their contact information to assist in contact tracing efforts, should they be required.
Physical Distancing
The Department of Health continues to encourage everyone to keep at least 1.5 metres apart from others (outside of their family unit) where possible. Safe Work Australia guidance requires the front row behind the driver to remain empty to distance the driver by the recommended 1.5 metres from the rest of the group.
A simple assessment of the risks based on the travel task and the profile of the group will determine the number of people that can travel together in a coach. Consider, who is travelling and how long are they travelling as a starting point. Our team are here to guide you and our interactive seating plans will assist in your planning.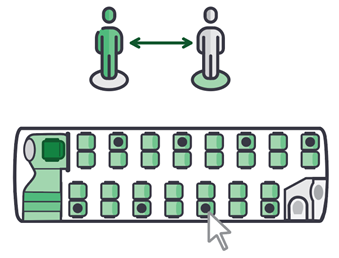 Driver PPE
All drivers are issued with personal protective equipment including, disposable gloves for manual handling, sanitising and cleaning equipment to clean high touch surfaces inside the coach regularly, as well as a small supply of face masks for use by the driver and by any symptomatic passengers. Hand sanitiser is also available on the coach.
Temperature Checking
All passengers may have their temperature tested prior to boarding.
Hand Sanitiser Onboard
Hand sanitiser is provided onboard the coach for use by passengers.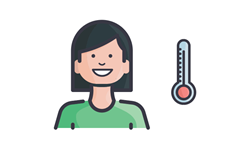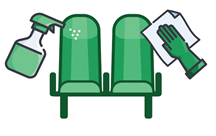 Enhanced Cleaning Procedures
We have increased the frequency of coach cleaning, including between passenger groups each day. Cleaning requirements include high touch surfaces such as handrails, seat tops, back and pockets, Sneeze shield (if installed), Modesty panel hand holds, tops of seats, Edge of luggage racks, armrests, seat-belts, windowsills and door handles. Commercial grade cleaning agents are used. We may recommend that travel time onboard the coach be limited and "fresh-air" breaks be provided in your itinerary to allow additional cleaning to occur.